Before buying one of the best monitors for MacBook Pro, you'll need to look out for two key things. The first is superb colour accuracy and image quality, to match the displays of Apple's laptops; and USB-C connectivity, so you can plug using a single cable, and charge your MacBook Pro while doing so. While pretty much any screen on the planet will work with a MacBook Pro, to be one of the very best buys – and good enough for this list – we've looked for monitors with that little bit extra.
The best monitors for MacBook Pro should offer the same advantages that the laptops themselves do: easy to use, reliable, flexible, and top quality. We're looking for wide colour gamuts, high resolution for the size, adjustable ergonomics for comfortable working, and great connectivity that means you can use the screen as an easy USB or Thunderbolt hub. Of course, all of that will be balanced with price – we've got options from the best budget MacBook Pro monitor up to more elite models (and they do get very elite!)
With the 13-inch MacBook Pro now available with Apple's incredibly fast M1 chip, and a brand new 16-inch version rumoured to release this year, it's important that we choose monitors that work well with both old and new MacBook Pro models – and that's exactly what we've done.
Of course, if you're looking for general monitors rather than those specific to Apple, don't forget our best 4k monitors roundup. And, of course, if you're looking for great MacBook Pro deals, we've got you covered there too. 
The best monitors for MacBook Pro available now
Dell's displays are geared towards the practical, in the best possible way. This isn't much of a looker (unless you're really into dark generic office chic0, but gives you 99.9% sRGB coverage, 95% DCI-P3 and 99% REC 709, and a 3,840 x 2,160 4K screen that's a generous 27 inches in size – it's lots of space to work in, with excellent levels of detail. Height, tilt, pivot and swivel adjustment options make it easy to work ergonomically, too.
USB-C means its ideal for connecting to a MacBook Pro, and 100W of power means you can charge a 16-inch MacBook Pro that's running flat out, even – it really is a single-cable connection. There's a second USB-C port for other accessories, plus three USB A ports, making it a great connection hub.
If you need something packed with detail that can be made to suit any physical working environment, this is a great buy. You get excellent image quality, versatile screen modes and loads of features plus top connectivity. The flaw for some will be the average brightness levels, which are lower than the Pro's own screen manages.
This screen checks more boxes than an Amazon warehouse. 98% DCI P3 gamut support and a 450-nit typical brightness are both very close to the screen of the MacBook Pro itself, making them a perfect pairing. As an added bonus, there's HDR support, with peak brightness hitting 600 nits, which is enough to really make using HDR on it worthwhile.
The resolution of 5120×2160 means you could have a Cinema 4K resolution or Ultra HD resolution video at full size, and still have some space for panels, to make live tweaks to the look. You might have noticed that we're not talking the usual 16:9 or 16:10 screen here – this is 21:9, which means you get more space for documents, tool panes or anything else you need to fit on the screen. It does mean its a hefty 34 inches – it's not an unreasonable size (especially if you're replacing a double-monitor setup!), but it may not be for everyone. Tilt, swivel and height adjustments mean its easy to get it working just right for you, anyway.
Throw in strong connectivity (including that important USB-C connection) and you've got a screen we recommend highly. The only slight disappointment is that, as a more expensive option, we wish it offered Thunderbolt 3/4 connectivity, but most people will be able to live without anyway.
The ASUS ProArt PA278CV is a fantastic monitor that works well with the unique demands of pairing it with a MacBook Pro, and is the up-to-date, bigger version of the really good budget 24-inch ASUS ProArt PA24AC.
It offers 100% sRGB support, a 14-bit internal look-up table, uniformity tech for accurate images, and easy switching between calibration profiles. Its well built stand has great ergonomic adjustments, so you can move it with ease to work with your MacBook Pro, whatever your set up. It also offers fantastic viewing angles, so sharing the screen is super easy, and details aren't lost in well-lit places.
Its simple connectivity means you can dock and charge your laptop, and access the USB 3.0 hub with one USB-C cable, simplifying your set up. And when you're at work, you're surely make the most of the 75Hz refresh rate and solid response times, meaning a really smooth experience regardless on which monitor you're focussing on.
If you want something to offer strong image quality in a home office where space is at a premium, and don't need Ultra HD resolutions, pick this.
If the top-end screens here break your budget limits, this ViewSonic is the no-nonsense, great-quality cheaper buy to go for. Despite the low price, it's still aiming to be professional grade, delivering 100% sRGB colour gamut coverage and Delta E of less than 2 (so its colour accuracy should be indistinguishable from perfect to the human eye – this is what basically all the monitors we feature offer).
Being a smaller 24-inch model with 1920×1080 resolution, it's made for photographers or designers to focus on getting the looks perfect rather than seeing every inch of detail, and that's just fine for this price – 1080p is still plenty. It also has ergonomic features to adjust height, tilt, pivot and swivel, so you can get it set up perfectly. It's a shame there's no USB-C (meaning you'll need to add an adapter to the budget), but it's a sacrifice we can make – overall, it's an excellent package for creative pros.
Don't get this screen confused with the one featured at the top of our list… especially since it costs double the price. Note there's an extra 'P' at the end of the product name here – we don't know exactly what it stand for, but we'll assume 'precision', because that's exactly what you're paying the extra for here. 
On top of the detailed 4K resolution at 27 inches, you've got 100% Adobe RGB, 80% BT. 2020 and 98% DCI-P3 colour range support. And you can be sure you're seeing it right, because this has a built-in colorimeter that's CalMAN ready. You only get 250 cd/m2 of brightness, but Dell uniformity tech will make sure that it's spread evenly, which is what you're really here for.
Actually, the 'P' could stand for 'power', because there's lots of that here. It's the rare monitor that's a Thunderbolt 3 hub, giving you massive throughput to RAIDs and other accessories that need that level of bandwidth. And it delivers 90W of power over a USB-C/Thunderbolt 3 cable, so MacBook Pro 16-inch models will stay juiced even when you're pushing them to their limit.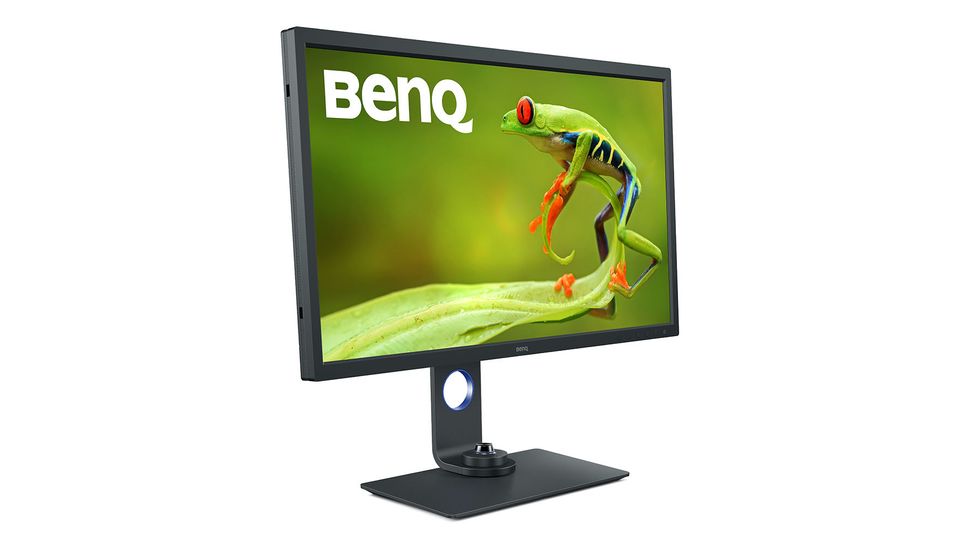 Apple's laptops are perennially popular with photographers, and if you're looking for the best monitor to edit photos on, the BenQ SW321C PhotoVue is it. The huge 32-inch screen and 4K resolution let you really get deep into detail – this thing really shows off any kind of creative work in all its glory.
It features a wide colour gamut of 99% Adobe RGB and 95% DCI-P3, essential for photographers, and you can easily tweak its calibration to mimic the kind of paper you're planning to print on, so you can specifically target that as your end result when editing. It's expensive, but if you're a photographer who works on a MacBook Pro, this is the best monitor you can buy right now.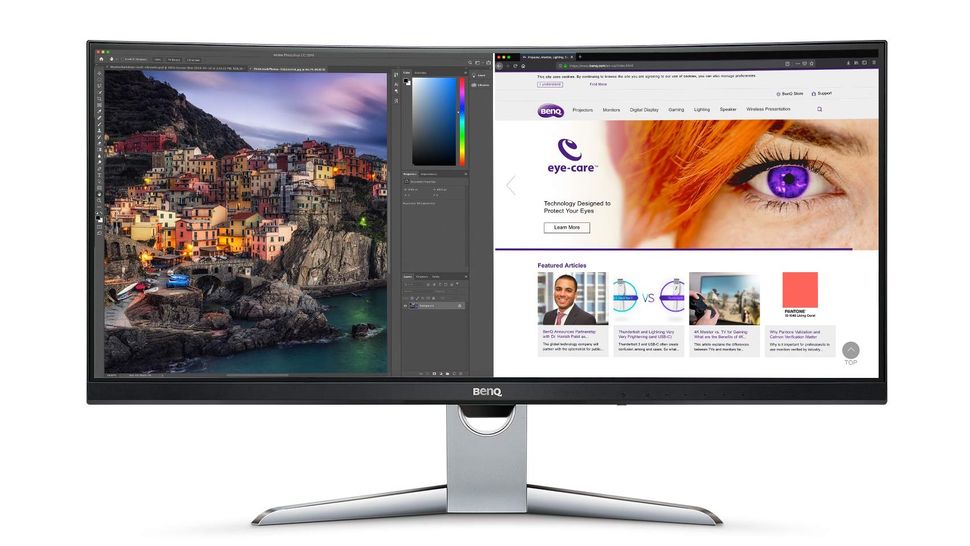 Ultrawide monitors are becoming more and more popular for work because they can basically be dual-monitor setups, but take up less space – great in this growing era of home offices. This display is 35 inches diagonally, but don't be afraid that it's the size of a TV – it's a pretty standard monitor height, it's just wider. The resolution of 3440×1400 gives you much more space for keeping more tool palettes visible (or reference material, or email, or video conferencing, or anything else you need) right alongside your creative apps. 
100% sRGB coverage means you can see colours just how you need them, and there's even HDR support (though, again, the brightness is too low for meaningful use of it for video work). It also supports up to 100Hz refresh rates, so digital artists looking for minimal lag will find a friend here (or it doubles nicely as a gaming display).
It turns out that if you want the best of the best screens, you'll need a big ol' budget – who knew? Ah, but it's so worth it – in some ways, this could be top of our list, but the price and specific features are overkill for a lot of people. You see, the draw here is the self-calibrating nature of the screen. A built-in sensor will run regular checks to ensure what you're seeing is what you should be seeing, with no extra effort required from you. Who doesn't love essential equipment that self-calibrates?
Eizo's specialist software helps you choose the colour profile you want to work to, as well. The resolution is DCI Cinema 4K (4096×2160), in a 31.1-inch screen – you're getting a lot of real estate to work in here. It also has HLG HDR support for video compositing and grading (though the brightness isn't HDR rated), with 10-bit colour support and 98% DCI-P3 and 99% Adobe RBG coverage.
When we say this is the best monitor for MacBook Pro video work, we're not claiming that it's the equivalent of a true reference monitor – but if you want to work in HDR and need something more reasonable in price and more desk-friendly, this is exactly what you need. 
This is all about 4K HDR video – 32 inches of 3840×2160 Ultra HD resolution lets you see your work at full quality, and its HDR1000 rating means you can test HDR at a level that matches or exceeds the vast, vast majority of TVs, backed up by 95% DCI-P3 colour support (and 99.5% Adobe RGB, 100% sRGB). The really key thing here is its mini-LED full-array backlight – this enables highly localised dimming of the backlight in areas where your footage needs to show dark areas, but should also be good for even colour reproduction for still images.
There are 384 dimming zones, which will still mean a small amount of blooming when light and dark areas are next to each other, but in general enables true high contrast viewing far beyond what anything else in this list can dream of. If you need even more precision, the ASUS ProArt PA32UCX-K is the souped-up version of this, hitting 99% P3 coverage and featuring an astounding 1,152 local dimming zones in the mini-LED backlight.
Related articles: