Picking the best drawing tablet for kids is more complicated than it might first appear. Depending on the age range you're buying for, you may want something simple and brightly coloured, or a more sophisticated artist's machine that'll encourage and nurture a budding talent. 
So what makes a tablet one of the best drawing tablets for kids? There are loads to choose from, with market leaders like Wacom and Huion producing cheaper tablets that make for great options for kids. Many of these do need to be plugged into an external display to allow the user to see what they're doing, so you do need to factor this in when buying.
With this being the case, you may want to get an all-in-one tablet with its own display. Brand new advanced tablets like the iPad Pro M1 12.9-inch and its 11-inch counterpart are some the best tablets for drawing right now, but they're almost certainly much more technology than any kid needs, and come with a price that reflects that. We've included some great iPads on this list that are more suitable for young ones, with great drawing functionality and the ability to run other apps. We've also included some of Amazon's Fire Kids tablets, which come with a suite of useful parental modes for controlling content and setting time limits. 
Every child is different. We've included a range of tablets on this list that we think will cover the broadest possible range of options, so whatever age range and ability level you're shopping for, we reckon one of the products on the list will be suitable. We have specified age ranges for each entry so you can get an idea of which is best for your child, and our deals plugin also provides up-to-the-minute pricing, so you can be confident you're getting value for money.
If you want to encourage your child's creativity further, it might also be worth exploring our guides to the best cameras for kids, or the best lightboxes. For now though, let's get started on the best drawing tablets for kids.
The best drawing tablets for kids available now
If you're looking for a tablet that will encourage a budding artist, that will provide a superb, child-friendly experience for a reasonable price, then we definitely recommend the Wacom Intuos Draw. Striking a peerless balance between performance and price, this is a baby cousin to the big professional tablets Wacom sells, and is an ideal first step on an artistic journey.
The tablet comes equipped with everything an artist needs to get started. It comes with the handy Wacom Intuos Pen, which offers 2,048 levels of pressure sensitivity. It's a drawing tablet and not a pen display, meaning it needs to be connected to a computer so a user can see what they're doing. This is easy enough, and any kid of 12 or older can be expected to get the hang of it pretty quickly.
This isn't one for little kids. It probably costs more than you'd spend on a tablet if you don't believe your child will use it a lot, so scroll down if you're looking for more casual options. If, however, you're looking to nurture a spark that could turn into a lifelong passion, this is your best bet.
Huion tablets provide great functionality at hugely affordable tablets, and this means that a Huion tablet is the ideal gift for a child who wants to draw! 
Out of the Huion stable, which is pretty extensive, we'd pick the Huion Inspiroy H1060P as one of the best drawing tablets for kids. It doesn't cost too much, but still manages to pack in features that wouldn't look out of place on a professional tablet, such as 8,192 levels of pen pressure sensitivity, and 16 customisable ExpressKeys that let the user tailor the experience precisely to their taste.
This is one for teenagers rather than really little kids (if you are buying for a toddler or kid under 10, scroll down for some recommendations on that score). It's an excellent choice for a child with a budding artistic skill; the main thing to be aware of is that the tablet doesn't have its own screen, just like the Wacom Intuos Draw. This means it needs to be plugged into a computer, or an Android tablet or smartphone, to allow the user to see what they're drawing.
For more Huion options, also read our best Huion drawing tablets roundup.
While it's the most expensive option on this list, if you want the best of the best when it comes to drawing tablets for kids, Apple's latest iPad Mini is very hard to beat. Its 7.9-inch display is nicely kid-sized, and once it's paired with the Apple Pencil, offers an amazingly precise and tactile drawing experience. Great both for sketching and for more advanced work with dedicated drawing apps, the iPad Mini is ideal for a kid who's starting to get serious about their drawing.
The price means it's not one for toddlers or any kid who stands a reasonable chance of pouring a carton of juice over it. Plus, you do also have to factor in the extra cost of the Apple Pencil, which doesn't come bundled in like the styluses do with other tablets on this list. However, if you're prepared to eat the cost, the iPad Mini does tick all the boxes. It's portable, easy to use, has great battery life, and will provide many hours of distraction for any budding artist. You can also set parental controls, for that bit of extra peace of mind.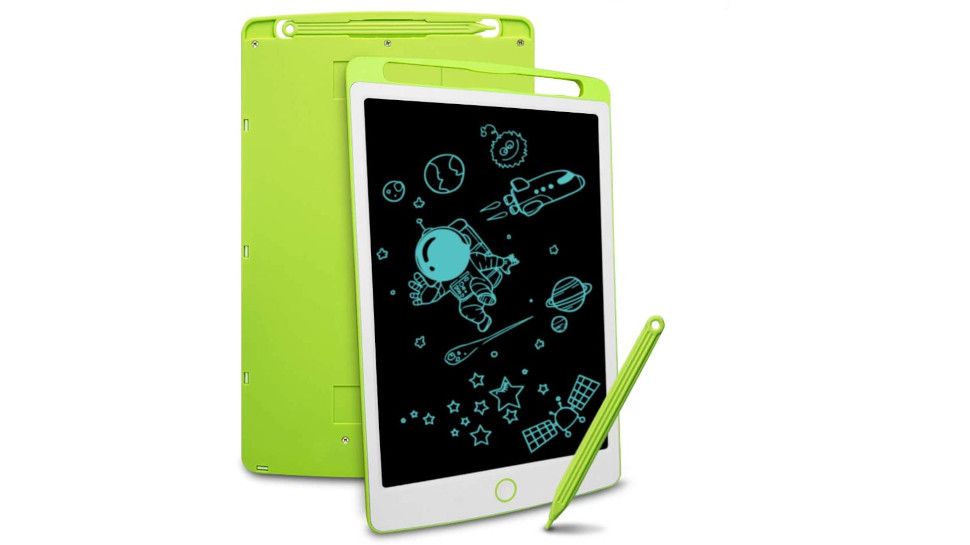 The best kids' drawing tablet for those on a really tight budget, the Richgv LCD Tablet is a wonderfully simple device that comes with everything a kid needs to start drawing, for an extremely low price. Not surprisingly at this price, there's no pressure sensitivity, and as the device doesn't have internal storage there isn't capacity to save creations – so it's a good choice for very young doodlers who won't mind too much (in that vein, the device is also splashproof, insuring it against juice-carton-related mishaps). This super simple tablet is a great first step into the world of drawing for little ones.
The best tablet for the kind of kid who's always doodling in a notebook, iskn's The Slate 2+ is based on a really neat idea. It's effectively a digital notepad that works with actual physical paper – simply attach it to the front of the slate, then start drawing with your own pen or pencil (with the supplied magnetic rings attached) and the tablet will create an instant digital copy that you can save straight to a connected device (computer or smartphone). This is a great tool that a budding artist can carry everywhere.
One of the best things about XP-Pen's tablets is that they offer tremendous value for money, so you don't have to stress quite so much about giving a tablet to a kid who might not take care of it as assiduously as an adult. The XP-Pen Art Deco01 V2, for instance, is not only fantastically affordable but also offers a great drawing experience, with full connectivity that includes Android as well as Windows and Mac. Though the pen does feel a little cheap and plasticky, it does offer 8,192 levels of pressure sensitivity, allowing for precise, fine detail work.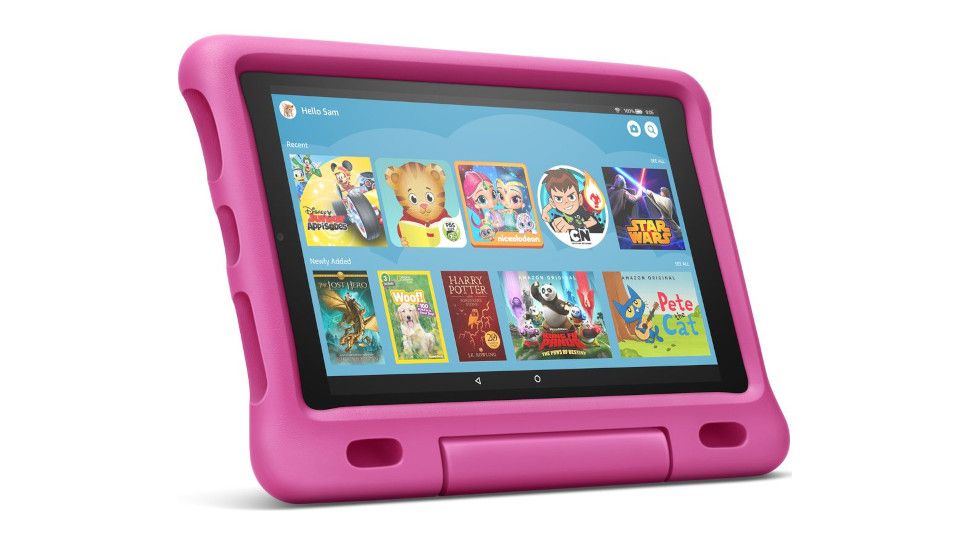 A tablet designed specifically for kids, the Amazon Fire HD 10 Kids Edition is an all-purpose little fun device built to be kid-proof. Purchase gets you a year's free subscription to Amazon Fire for Kids Unlimited, which nets them access to loads of books, TV shows, apps and games – and you can use the parental controls to block access to games until the reading gets done!
So what about the drawing? While the Amazon Fire HD 10 Kids Edition isn't a specialised drawing tablet, it'll work well enough for little doodlers. That is, as long as you remember to pick up the extra stylus, which doesn't come as part of the package. Once this is done, there will be no shortage of drawing apps to play with. There won't be anything like the depth and fidelity of a Wacom tablet, but for sketches and doodles, it works great.
The Amazon Fire HD 10 Kids Edition is an excellent choice if you want a tablet that's great for plenty of functions as well as drawing. Also, if the 10 edition is too expensive for you, Amazon also produces smaller tablets in 8-inch and 7-inch varieties.
The Huion H640P is an excellent drawing tablet for kids. It's small and portable, making it perfect for little hands – and also easy to carry around in a backpack. At just 10.2 x 5.8 inches, this option is no thicker than a smartphone, but offers a handy set of shortcut keys, which makes up for its compact size. 
The pen that comes with the Huion H640P is comfortable and easy to use. Unlike more sophisticated styluses such as the Apple Pencil, it's a battery-free pen, so a drawing session won't be prematurely stymied if someone forgot to plug their pen in the previous night. Happily, the H640P pretty competitively priced as well, which makes it an ideal choice for young beginners.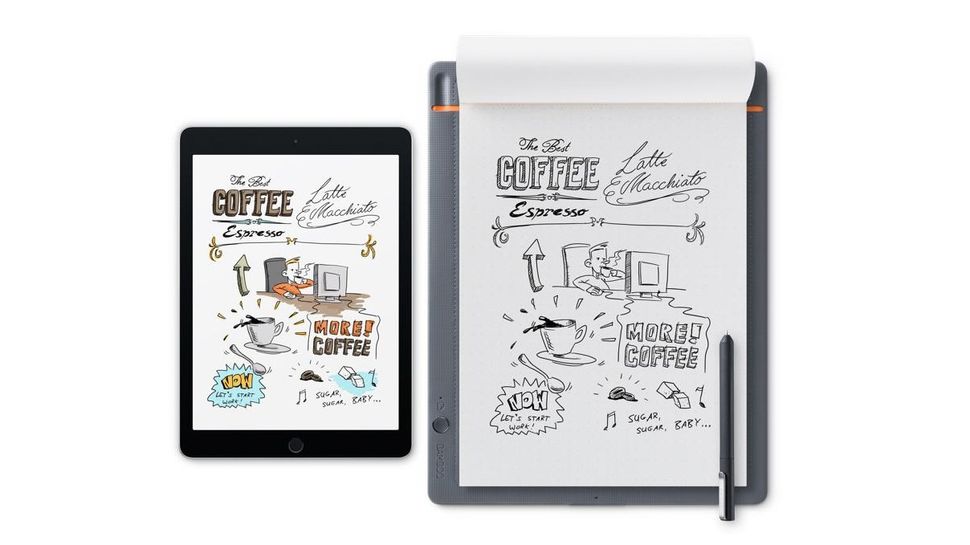 Wacom Bamboo Slate isn't technically a graphics tablet – it's what Wacom calls a 'smartpad'. This turns handwritten notes and sketches into digital art that can be sent to a tablet via Bluetooth, or a PC via USB. These can be saved in a host of file formats, and there's a real tactile pleasure in scribbling on the tablet and then seeing the results transfer to a screen. Hugely popular with kids of all ages, this is a particularly good choice if you have an arty kid who's just starting out. They can doodle on the Bamboo Slate, then edit their work on a PC or tablet. What a way to spend a lazy afternoon!
If you're going to buy an iPad for a kid, it makes sense for it not to be one of the high-ticket, mega-bucks options. The iPad 10.2 is just the ticket, a smaller and more affordable iPad designed for more casual users. This 2020 refresh has a new faster-than-ever chipset, and like all other iPads, it works with the Apple Pencil (although you'll have to buy that separately – you'll find the best Apple Pencil deals here). This means that it's a terrific get for artists of all shades. The drawing experience is sublime and creations look fantastic on the high-quality Retina display. The fact that the tablet can do lots of other things as well makes it fantastic choice, and one of the best drawing tablets for kids you can buy. 
How to choose the right drawing tablet for kids
There are plenty of different types of best drawing tablets for kids. These tablets tend to offer touchscreen surfaces that make them intuitive to use, while some will be capable of interfacing with your kid's other Windows/Mac/Android devices, either remotely or via a physical connection like USB, which will allow them to safely store their creations. Bear in mind that there are a few different types of drawing tablets for kids: 
Pen display tablets feature a built-in touchscreen monitor with a pressure-sensitive surface that you draw on with a stylus. The screen shows the pen and brushstrokes as the child draws, which makes it much easier for them to use. They are more expensive than graphics tablets, and usually need to be connected to a PC.
Graphics tablets plug into computers and enable kids to draw and paint naturally. They are usually a bit cheaper than tablet PC devices. The drawback is that they often don't display what's being drawn, which is instead shown on an external screen, such as the monitor of the PC it is plugged into. This can make using them a bit tricky for kids at first.
Tablet computers, such as the iPad, come with bright and vibrant touchscreens that work well with styluses. The benefits of these include being able to display the art as it's being drawn. They can also run a number of other apps and games as well, which makes them a more versatile purchase. They are also often quite a bit more expensive than pen and digital drawing tablets. 
Also read: The best cheap 4K monitor deals | The best cameras for creatives | Top keyboards for creatives | The best mouse | The best office chair | The best desk